Coffee is an unforgettable drink that always comes across on every street in any country, Toronto is not an exception. With all the styles from the modern world to ancient times, from special elements to the minimal lifestyle for everyone to make the decision to stop by when traveling or for daily routine. Take a glance at the list to check whether you have missed any of The best coffee shops located in Toronto.
1. Dineen Coffee Co.
Located on Yonge Downtown, Dineen Coffee is a remarkable and easily visible store for travelers to pass by for a takeaway brought along their trip as well as the typical place that occurs lots of business discussions made by many local officers. Another special factor that attracts customers is the endless golden light brightening during days or nights. This will also bring you to the 90s feelings with the identical decoration inside and outside the house.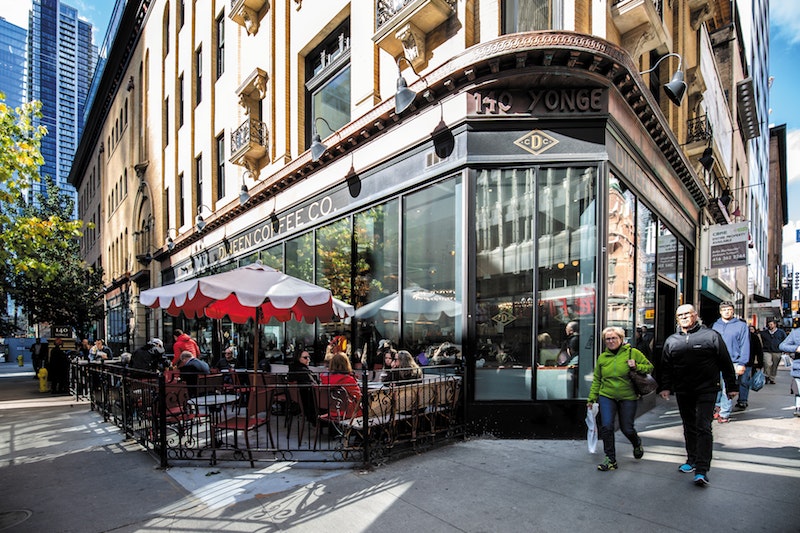 Being one of the most popular coffee spots for busy professionals, therefore, during the summertime, this shop opens up to a sunny outdoor seating area so people can enjoy a lunch break or enjoy a quick snack with colleagues after work.
Address: 140 Yonge St, Toronto, ON M5C 1X6, Canada
Hotline: +1 416-900-0949
Website for detail menu: dineencoffee.com
Opening hours: 9:00 AM to 3:00 PM; closed on Monday and Sunday
2. NEO Coffee Bar
Collected from numerous comments about this place is mainly "Great!", they show mostly their admiration for the wonderful smooth cappuccino crafted with skill and care. Friendly and attentive staff. Matcha & Adzuki roll is outstanding-rated as the lightest and delicious in the resumé and being the great combination with coffee.
NEO Coffee Bar is also cover with the ambiance and decoration of urban elegance, which creates a cool area in the back to relax with friends as you sip and dine from their various bakery selection.
Address: 161 Frederick St Unit 100, Toronto, ON M5A 4P3, Canada
Hotline: +1 647-348-8811
Website for detail menu: neocoffeebar.com
Opening hours: 7:00 AM to 5:00 PM
3. Te Aro
Small-batch, craft roasted beans and be rest your bones at Te Aro's warm comfortable space is going to an ideal spot for reading or getting your business done.
The considerable feature is that you can experience the old street style as being heritage from Leslieville's industrial yet cozy and New Zealand-inspired coffee spot while tasting one of the most the best seller coffee brand Pilot Coffee Roasters in Canada.
Address: 983 Queen St E, Toronto, ON M4M 1K2, Canada
Hotline: +1 416-465-2006
Website for detail menu: pilotcoffeeroasters.com
Opening hours: 8:00 AM to 4:00 PM every day
4. Fika Cafe
Fika is definitely one of the best cafes in Toronto. Located in the heart of the Kensington Market area, this cafe offers a wide variety of drinks and snacks. They also serve sandwiches. Having an inner wall covered with open books and their sunny outdoor patio has tables and hammocks to relax on, they have won their customers' hearts while walking through and seeing the eye-catching blue gem color on the external house under sunshine.
"A Swedish inspired Cafe serving coffee, tea, sandwiches, and homemade pastries" is the best choice for stopping to gradually sip a cup of coffee, eat a cake and wait for your love.
Address: 28 Kensington Ave, Toronto, ON M5T 2J9, Canada
Website for detail menu: fika.ca
Opening hours: 11:00 AM to 4:00 PM; closed on Tuesday and Wednesday
5. Cafe Pamenar
Undoubtedly, being one of the most gorgeous and well-kept hidden coffee shops, Cafe Pamenar has proven its reputation over time with the feeling of being lost in an oasis of green with wide canopies and vines climbing up the walls.
The diversity of drinks from coffee to teas or even beers bar for nightlife as well as many various desserts are also the favorites to the visitors after self-study hours or for the travelers who are finding a cute place to blow off some steams.
Address: 307 Augusta Ave, Toronto, ON M5T 2M2, Canada
Hotline: +1 647-352-3627
Opening hours: 8:00 AM to midnight every day, but 8:00 AM to 8:00 PM on Monday.
6. Rustle and Still Cafe
The majority of the population has definitely heard about "Ca phe sua da" whose origin is from Vietnam – the most reputed South-East agricultural area cultivating raw coffee beans due to the advance of tropical climate and nutritious soils. If you have any tendency to try a cup of this specialty like this, let's go to the Rustle and Still Cafe.
Rustle & Still only serves the cafe that honors the owner's Vietnamese heritage, with natural coffee beans sourced directly from the country, along with traditional bread and desserts. Bringing to Toronto a tool called "cafe fin" combined with the standard processing time, they promise to send the most quintessential coffee extracts to the customers from around the world as well as the Vietnamese who have to stay far away from their hometown.
Address: 605 Bloor St W, Toronto, ON M6G 1K6, Canada
Hotline: +1 647-350-8893
Website for detail menu: rustleandstill.com
Opening hours: 10:00 AM to 4:00 PM every day
7. Boxcar Social 
Boxcar Social has a few different locations across the city but their newest addition is the one nestling in the Harbourfront Center. Guests can slowly enjoy coffee, having lunch with beautiful views of Lake Ontario right in the front.
 It was an added touch by the fountain outside and the interior design makes this place a super cute coffee shop for the youth to take pictures of the marine background.
Address: 235 Queens Quay W, Toronto, ON M5J 2G8, Canada
Hotline: +1 844-726-9227
Website for detail menu: boxcarsocial.ca
Opening hours: 10:00 AM to 11:00 PM on weekdays; 10:00 AM to 8:00 PM on weekends and closed on Monday
8. Early Bird Wine & Coffee
Unlike other coffee shops, this place just matches its name "Early Bird", the romantic creature. In fact, coffee, of course, is the main product, you probably already know this cafe because they serve pink eggs benedict and toast-shaped roses that have been seen all over on Instagram. The menu here is quite special and it's easy to understand why so many people know it.
 It's a great spot for weekend dinners but they're also a casual cafe with a sunny and white terrace in the back.
Address: 613 Queen St W, Toronto, ON M5V 2B7, Canada
Hotline: +1 647-348-2473
Website for detail menu: early-bird.ca
Opening hours: 10:00 AM to 6:00 PM on Tuesday, Wednesday, and Sunday; 10:00 AM to 10:00 PM from Thursday to Saturday and closed on Monday.
9. Himalayan Coffee House
Lattes with a variety of colorful cartoon-character arts or even our faces are the must-go feature that you can collect from this place. Although it is focused on the performance of the drink decoration, the prepared coffee and beverage has many flavors, too. And they are absolutely delicious.
The shop's geographic advantage has provided it the convenience that's perfect for grabbing a cup of coffee along the way or enjoying in their outdoor seating area.
Address: 2552 Yonge St, Toronto, ON M4P 2J2, Canada
Hotline: +1 416-485-6464
Opening hours: 8:00 AM to 3:00 PM every day; closed on Sunday.
10. Jimmy's Coffee
Jimmy's Coffee is one of the classic coffee shop chains in the city. They have many locations in Toronto that serve coffee and scones which is an eclectic space as a warm and compelling environment for lovers, students, and many morning pick-me-up persons.
If you go to their location in Baldwin Village you'll find a backyard to relax in the sunshine.
Address: 191 Baldwin St, Toronto, ON M5T 1M1, Canada
Hotline: +1 647-352-5466
Website for detail menu: www.jimmyscoffee.ca
Opening hours: 8:00 AM to 6:00 PM every day
Conclusion
These are the potential selections that came from the extraordinary features made up of the best coffee cup: The coffee itself, the atmosphere, and the service. Being aware of them, you can complete your traveling experience in Toronto more perfectly and have yourself a much memorable trip.
HaiQuynh.
Top 10 BEST Coffee Shops in Toronto