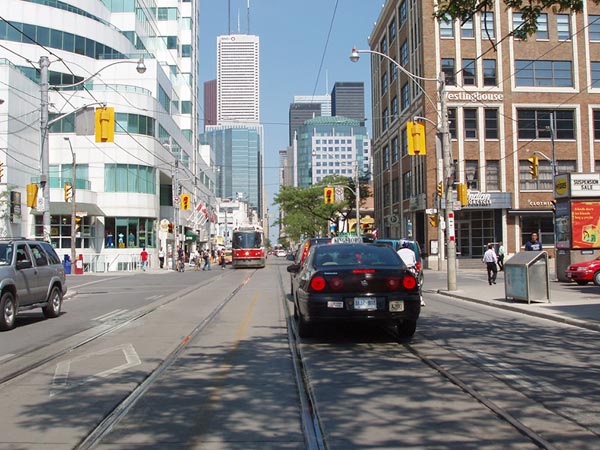 I don't see anything in the news about last nights King Street Transit Mall Community Consultation other than this piece in the Post… so I'm wondering if anyone besides autocentric and narrowminded business owners went (please note that I'm not calling all business owners autocentric and narrowminded – just the ones who think that cars go to restaurants and shows and buy stuff… it's PEOPLE who do these things… PEOPLE!):

"I have yet to decide if this is a good or bad proposal. But it has many challenges ahead of it, especially for restaurants, especially for residents," Mr. Vaughan said. "The TTC needs to slow down and listen to the community."

And the community — at least judging by the attendees at last night's meeting– was not pleased.

One attendee at the meeting said: "This is a very difficult place to undertake this. I am surprised that they chose this street to attempt it. This is madness."

He said the plan could ultimately close down the theatres in the entertainment district — one of Toronto's most popular tourist destinations — because patrons will be unable to reach the theatre by car.

A lawyer representing the Holiday Inn on King and Peter streets, asked Mr. Giambrone how a tourist unfamiliar with the city could reach the area and park.
Make an area about people (not cars) and reap the financial riches. If you're afraid of what you don't know, let these links educate you: